SENTRY JOURNAL » Uncategorized » Newt Gingrich at Values Voter Summit – Out-of-Control Judges
One of the things I really like about Newt Gingrich beyond him being brilliant, is I believe he is very sincere about saving America.  He is a man who has made a few missteps in his past, but can you tell me who hasn't.  Look at all the missteps and associations President Obama has had in his past.  No one is perfect.  None of our candidates are perfect.  There is one or two things about each candidate that we conservatives don't like.  Now back to Mr. Gingrich.  Yes he has had some missteps in the past but the one thing he is about is ideas.  He brings up relevant topics that need to be discussed and debated.  Below is a clip from yesterday's Values Voter Summit in which he addresses the issue of out of control judges.  It's about 22 minutes long, but well worth the watch.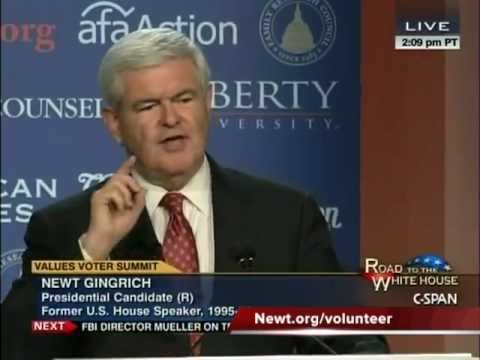 The more I listen to Newt, the more I like what he has to say.  I know, many conservatives believe he's an establishment type, but when you really think about it, with the exception of Ron Paul, he's the only one addressing foundational issues that are impacting our nation.  He is talking about issues that need to be talked about and acted upon.  He's not slinging mud at another candidate over something that was written in a book.  He is raising the awareness level of people about serious issues that threaten our republic.  The above clip is an example of this as he discusses the topic of out of control judges and what we can do to stop them from destroying our constitution and the republic.  Mark Levin addressed this same issue in his book Men in Black; How the Supreme Court Is Destroying America.  Out of control judges is a very real problem in America.  We just haven't given it the attention it needs.  These judges can change the entire constitution based an interpretation in one ruling and forever change America.  This has already been happening for years now and today we are more divided than ever along the ideological spectrum.  I applaud Mr. Gingrich for shining the light on these very important topics.  Whether he wins or not, he deserves our thanks for being at times the only adult in the room.
Liberty forever, freedom for all!
Filed under: Uncategorized · Tags: Constitution, Judges, Judicial Interpretation, Newt Gingrich, SCOTUS, Values Voter Summit, Video