SENTRY JOURNAL » Uncategorized » Judge Napolitano talks to Rand Paul about his detainment by the TSA
Earlier today in Nashville Senator Rand Paul was detained by the TSA because he refused a full body pat down.  Judge Napolitano interviewed Senator Paul about the events and the circumstances that led to his detainment.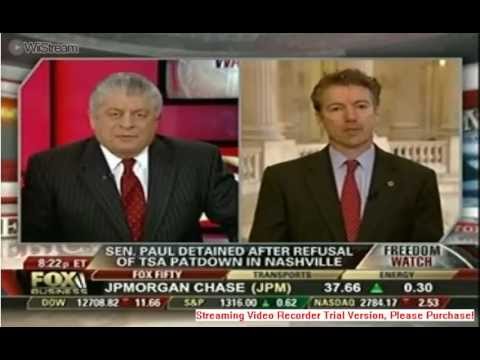 I have always believed the TSA and their random searches of American citizens without probable cause is unconstitutional.  An agency like the TSA would never have been permitted to exist 30 years ago because people had  a better understanding of their constitution and the limits it placed on the government.  But over time people have lost their understanding of the constitution and have allowed the slow creep of unconstitutional acts to slither into their lives in the name of security.  We had better wake up folks.  We had better start thinking about liberty again as a people or we risk losing it all.
Liberty forever, freedom for all!
Filed under: Uncategorized · Tags: Freedon Watch, Judge Napolitano, Rand Paul, TSA., Video