SENTRY JOURNAL » Uncategorized » Megyn Kelly Panel: Obamacare is indeed a tax
I thought this was actually a pretty good debate on Megyn Kelly's show about whether Obamacare is actually a tax.  If you missed this exchange yesterday take a few moments to watch it.  It's about five minutes long.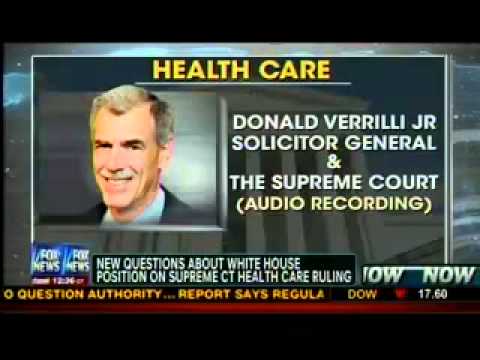 Those pesky facts always seem to trip up the left.  I especially liked when she played the the audio clip of Solicitor General Donald Verrilli explaining to the Supreme Court as to the reason why they didn't call it a tax.  When questioned why congress did just call it a tax, Mr. Verrilli responded, "They may have thought your honor that calling it a penalty as they did would make it more effective in accomplishing its objective…"  Well we finally had a moment of clarity and truth from the left.  The reason they called it a penalty was because if they called it a tax they might have had a more difficult time pushing it through.  So what they're telling us is that they outright lied to the American people.  They deceived the American people into believing that this was not a tax.  Oh what a tangled web we weave, when first we practice to deceive.  Now they're saying the Supreme Court court got it wrong (which they did in my opinion in regards to its constitutionality) and that it's not a tax.  And these people want you to trust them and vote them back into office.  Are you kidding me?
What needs to happen is that every single senator up for reelection this cycle who voted yes on Obamacare needs to be fired this November.  And every representative who did the same needs to be looking for a new job November 7.  All of them perpetrated fraud on the American people and do not deserve the trust of the American people.  It's that simple.  And if you are from a state that has one of these senators or representatives and you vote them back into office then shame on you.  These people violated your trust.  They have been running wild for far too long and it's time we hold them accountable for their actions.  It's time they become private citizens again and live with the garbage they have imposed on the rest of us.
Liberty forever, freedom for all!
Filed under: Uncategorized · Tags: elections 2012, Fired, Megyn Kelly, obamacare, SCOTUS, tax, Video