SENTRY JOURNAL » Uncategorized » Remembering 9/11: How I remember the events of that day
Philosopher George Santayana said, "Those who do not remember the past are condemned to repeat it."  Most of us remember where we were when we first heard the news of the terrorist attacks on the World Trade Center, Pentagon, and the crash of United Airlines 93 in a field near Shanksville Pennsylvania.  It was a day that will forever be a part of all of us.  I was two days back from leave I had taken to Pennsylvania to visit my family.  I hadn't yet signed in off of leave and my wife and I were getting ready to head out to pick up some groceries.  It was a beautiful September morning.  The sky had that crisp autumn look about it and the smell in the air telegraphed in nature's way that winter was only a few short months away.  I remember my wife doing her hair in the bathroom when she told me to turn on the news, one of the World Trade Center towers in New York was on fire.  I turned on the TV and saw the terrible images of fire and smoke on the upper floors of one of the towers.  I couldn't believe what I was seeing.  How could one of the World Trade Center towers be on fire?  As I watch in disbelief I saw another explosion from the second tower.  Immediately I said to my wife that something was wrong.  This feels like a terrorist act or something.
By this time we were both sitting on the bed in our bedroom with our eyes glued on the TV as events unfolded.  Within minutes after the second attack, rumors of hijacked aircraft being used as missiles started filtering in as reporters trying to make sense of it all were struggling to keep their composure.  They began showing footage of the second tower attack and you could clearly see a jet crash directly into the building.  What started off as a beautiful September morning quickly turned into a nightmare.  The unthinkable was happening and I all I could do was watch helplessly.  As the day unfolded more news poured in about this cowardly act.  I contacted my orderly room and I told them I was back from leave and would report as soon as possible.  I remember that day 11 years ago like it just happened.  The loss of so many innocent lives on that day should never be forgotten.  I believe in peace through strength and that we should always be prepared and ready and do everything in our power to reduce the chances of a cowardly act like the one that happened on 9/11 from ever happening again.  If we choose to forget the events of that day, then we are condemned to repeat them.  Below is a video tribute.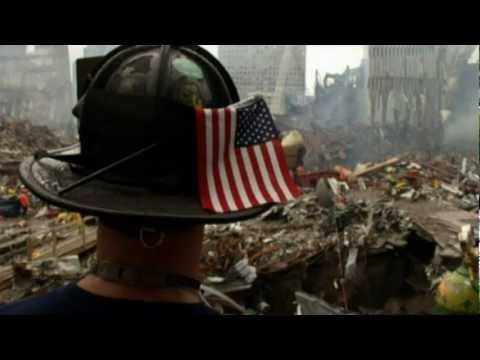 Below is the U2 tribute from the 2002 Super Bowl.  I thought is was an amazing tribute.
God Bless America.
Liberty forever, freedom for all!
Filed under: Uncategorized · Tags: 2012, 9/11, Super Bowl tribute, Tribute, U2