SENTRY JOURNAL » Uncategorized » America haven't you had enough of Obama yet?
I've been digesting the events of the last few days and I must say I'm deeply concerned about the future of America if Obama wins a second term.  There are very few times when I have trouble finding the right words to write but this time is different.  I'm struggling because I'm frustrated and I'm done with this administration.
I'm frustrated with this administration because of the lack of leadership they have displayed when one of our own is murdered by an angry mob in a country we currently give financial aid to and one that we helped liberate approximately one year ago.  I'm frustrated because their first instinct is to apologize for some obscure video that very few have heard of instead of sending a strong message that America will not tolerate our citizens being murdered by an angry mob overseas.  This mob that stormed the American compound in Libya and killed the staff and our ambassador is no better than the pirates that Jefferson confronted in the same region when he was President over 200 years ago.  Jefferson realized there was no negotiating with these terrorists of the sea. In the end they would always demand more ransom.   In fact in 1791 when he was Secretary of State, Jefferson gave the American consul to Morocco, Thomas Barclay a letter of instructions for a new treaty with Morocco that read, "lastly our determination to prefer war in all cases to tribute under any form, and to any people whatever."  He was calling the pirates out.  He was fighting fire with fire because he realized nothing was going to change unless these pirates were challenged with force.  When Thomas Jefferson became President that's exactly what he did.  He sent a message that America wasn't going to be bullied by a mob of pirates.
What I can't understand is why Obama can't see the same thing?  Why can't he see that these people hate America and they desire to kill us?  The only absolute these mobs know is force and when they see us retreat or fail to respond they view it as a sign of weakness.  In my opinion Libya needs to be sent a message.  They need to feel the pain that comes with murdering of our citizens.  They need to understand there will be a price to pay for lawless acts that take the lives of American citizens.  Perhaps the reason our President can't see this is because deep down he believes we're paying for what he perceives as our sins from the past. After all he has apologized over and over again for America and the wrongs we have committed on the world.  Look this isn't about left or right, it's about America and the lives of our citizens.  Am I missing something here?
Americans should be outraged by the lack of response of this administration.  They should be outraged that the press is giving the President and his administration a free pass.  They should be outraged that the press colluded to turn is against Romney.  When are Americans going to wake up and realize that Obama is bad for America?  Haven't you had enough of this?  Haven't you had enough of Obama yet?  I know I have.  What's it going to take to wake you up?
Below is an example of what real leadership looks like.
And this is what we currently have.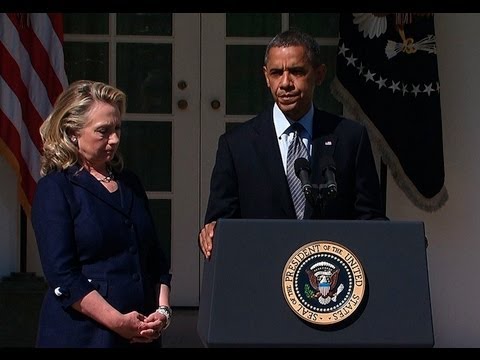 We're in trouble.
Liberty forever, freedom for all!
Filed under: Uncategorized · Tags: Ambassador, Killings, Leadership, libya, obama