SENTRY JOURNAL » Uncategorized » Obama's mob…he owns it!
Yesterday our community organizer in-chief traveled to Michigan and did what he does best;agitate the agitators who will do his bidding.  Again check out the below clip to see the master manipulator in action.
What we're seeing is the President of the United States inject himself into state matters,  Even though he knows he has no authority to change anything in this arena it doesn't stop him from tapping into the emotions of the mob.  His words as misguided and irresponsible as they were evoked the anger of the mob.  And today it played out in Lansing Michigan.
This anger led to an assault on conservative activist Steven Crowder.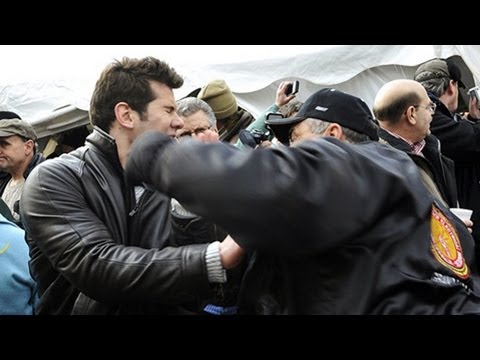 Mr. President you own this!  You are just as responsible for the assault on Mr. Crowder as the thugs who actually hit him.  This is your mob.  These are your people.  Their anger is your anger. This is your vision of America; angry and filled with hate. So step up and take responsibility for the America you so carefully crafted with your inflammatory words and careless actions.  You own it!
Liberty forever, freedom for all!
Filed under: Uncategorized · Tags: assault, Michigan, Mob rule, obama, Right to work, Steven Crowder, Union Thugs