SENTRY JOURNAL » Uncategorized » Getting ahead of the Hillary narrative the left is trying to peddle
Ever since Hillary Clinton testified during the Benghazi hearings this past week the left has been working very hard to shape the narrative.  How none of this is really her fault because the people right below her failed.  How it was the Republicans fault for cutting State Department security funding.  I've even read articles that claim she could quite possibly be one of the all-time greatest Secretary of States.  Really?  Even better than James Madison and Thomas Jefferson?  I mean they only had to help establish the United States as a legitimate nation to the world during their tenure.
Now the news program 60 minutes is going to air a sit down interview with President Obama and Hillary Clinton to continue to advance this narrative that Hillary is the best ever.  I mean how many times has something like this happened in the past?  The President of the United States sits down with a major news show for an interview with his disgraced outgoing Secretary of State.  The answer is it hasn't happened.  It's completely transparent what the President and left are doing and how farcical this whole thing with Hillary is becoming.  And the sad truth is people are buying it.  Check out the below video from Bill O'Reilly.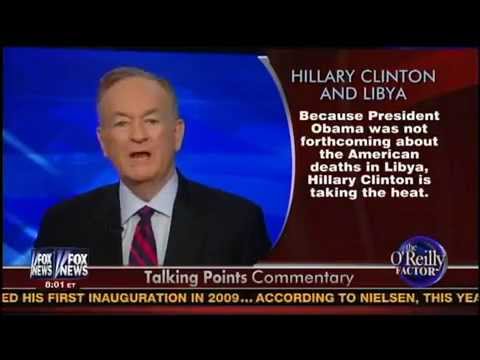 Think about this.  During the 2012 elections the left conjured up this false narrative about a war a women Republicans were waging.  When I first heard the assertion I thought, where is this coming from?  As I watched it unfold I dismissed it as absolute nonsense.  Even when they carried on with it through their convention I thought people really can't be buying this lie.  How wrong I was.  Their commitment in peddling the war on women narrative did pay off because if you tell a lie enough times it will eventually become a truth to some.  And a truth it became for a number of women who bought into the lie and voted for Obama.  So in 2012 the left successfully established a false narrative that will impact future elections unless conservatives soundly discredit it.   They have successfully laid the ground work for a Hillary run in 2016 because the war on women lie is still going to be a truth for many women.  I can see how this may play out?  If the Republicans nominee is a man and if Hillary is the Democratic nominee then the war on women narrative works in her favor.  And trust me she will use every bit of it to attack her opponent.  This is why it's imperative that conservatives challenge not only the war on women narrative, but Hillary's own terrible record.
When she steps down as Secretary of State I expect her to make her rounds on the same shows that Obama used when he was running for his second term.  Shows like Late Night Show, The View, The Daily Show, and The Tonight Show.  These shows attract a low information voter audience and that's what she will be looking for to sell herself.  Shows that are very low risk in terms of asking her the hard questions, but the upside is huge because an audience of mindless drones will be ready to lap up every word she speaks.  No one will call it like it is.  And the media will aid and abet her all the way through her journey to become the first woman President.
So here it is the simple truth.  Hillary Clinton failed as Secretary of State because under her tenure the lives of our ambassador to Libya and three other Americans were lost after repeated request for more security were denied by her agency.  Rand Paul stated it perfectly when he said it was a failure of leadership on her part and leadership is a key trait that is vital if you desire to be President of the United States of America.  These are desperate times for the left and here's why they must protect Hillary.  The left needs to clear the road for Hillary because they know that minus Hillary Clinton their candidate depth chart is extremely weak for 2016.  No one on the left really wants to see Sheriff Joe run because let's face it, he's nuts.  The other concern the left has is the Republicans have a large number of young articulate rising stars that connect with the people.  The left does not.  This is why conservative need to get ahead of the Hillary narrative the left is trying to peddle.  And this means they need to get on it now.  I personally believe they need to get a team of specialists on the payroll who knows how to tear a politician down and with Hillary's record; it wouldn't be that hard to do.  If conservatives don't act on this soon, then once again the left will gain the upper hand and peddle their lie with little to no resistance.  And if this happens, look for Hillary Clinton to be our next President.  And that's a reality we can't afford.
Liberty forever, freedom for all!
Filed under: Uncategorized · Tags: 2016, changing the narrative, free pass, hiding the truth, Hillary Clinton, record